Jolla batterijen te koop (update)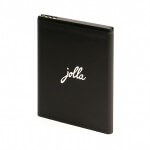 Vanaf morgen, 9 december, zal het mogelijk zijn om via shop.jolla.com reservebatterijen te kopen voor de Jolla. Helaas is er blijkbaar slechts een beperkt aantal beschikbaar, dus wees er morgen bijtijds bij.
Tomorrow, Tuesday 9th of December 2014 at 12:00 UTC, we will bring a limited batch of official Jolla batteries on sale to the Jolla Official Online Shop (ships to the EU, Norway and Switzerland only).
Be sure to order yours quickly if you need one, we only have a small batch available.Bron: [Official announcement] Batteries available Tuesday 9th of December 2014 @ 12:00 UTC
Er wordt op together al een jaar om reservebatterijen gevraagd. Helaas heeft Jolla tot nu toe niets gezegd over waarom het toch zo moeilijk is gebleken om dit reserveonderdeel te leveren. Wellicht dat deze informatie in de toekomst alsnog met de community wordt gedeeld.
Update
De Jolla official battery is vanaf nu bestelbaar voor €25,-. Naar Nederland is dat inclusief verzendkosten.