Hotfix voor SailfishOS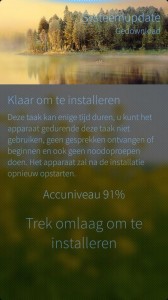 Gisteren heeft Jolla een hotfix vrijgegeven voor SailfishOS. De hotfix heeft enkel betrekking op de bij de laatste update toegevoegde ondersteuning voor MMS. Hiermee komt SailfishOS op versie 1.0.5.19.
Het changelog verteld ons:
[mms_codec] Fixed decoding of the From field
[mms_codec] Fixed decoding of address fields
[mms_codec] Replaced Content-Disposition:Inline with Attachment
[mms-lib] Changed default User-Agent to "Mozilla/5.0 (Sailfish; Jolla)"
[mms-ofono] Remove leaving and trailing spaces from the URLs
[mbpi] Cleaned up MMS settings for Orange France
[mbpi] MMS settings for Drei (Austria)
[mbpi] MMS settings for Etisalat (UAE)
[mbpi] Updated MMS settings for MTel (Bulgaria)
[mbpi] Remove spaces from URLs

Note: If you installed custom packages replacing core packages (like a custom wpa_supplicant) you'll have to redo that step after installing this hotfix!
Mocht je inderdaad een custom fix hebben geïnstalleerd voor bijvoorbeeld WPA2-PSK[AES]+[Others] wifi, houdt er dan rekening mee dat de patches worden overschreven.